"My Nine Lives: A Memoir by Leo Trentadue"
In 2007 and 2008 I worked with Leo Trentadue, founder of Trentadue Winery, in writing his memoir and having it published. The outline and photos below will give you an idea of the process we went through together.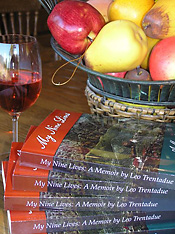 I met with Leo and his wife, Evelyn, to see what they had in mind. Leo wanted something quite comprehensive that would cover his entire life with emphasis on his World War II experiences, his years as a fruit grower in the Santa Clara Valley and the origins and subsequent growth of his winery in Geyserville, California.
Leo already had pages of stories and notes that he had written down over a period of time. My first challenge was to sort through the notes, organize them into groups and begin editing them into a cohesive narrative. This formed the backbone for the emerging book.
As I was organizing the stories, I saw the need for further research in order to place the story in a time context and to verify and fill out the facts. It was essential for me to educate myself about World War II so that I could begin to understand Leo's experience. It was also important to study up on the Great Depression, Santa Clara Valley, Dry Creek and the Alexander Valley. Obtaining information from other veterans, farmers and ranchers as well as archival photos from different libraries was most helpful.
Once a week Leo and I met to review what I'd written and to go over new material. In our interviews, he would often recall things we hadn't yet discussed, so I always had pages of notes for each section. Occasionally, I would meet with family members, individually or in groups. Gradually it became clear what the chapters would be titled and how they would be organized.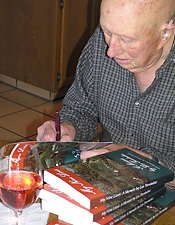 The last part of my work was editing the manuscript over and over again and getting Leo and Evelyn's approval. We spent hours choosing photos which I then titled and catalogued. When my part was complete, I turned the project over to Dia Misuraca of Sonoma Web Design.
Dia scanned and perfected the look of the 145 photos that Leo wanted to use. This was an enormous job which was beautifully executed in a way that makes the images really pop off the page. She then grouped the images in each chapter to create an impressive layout and added titles and captions.
The manuscript was then formatted to the printer's specifications (Lulu online publishing) until a printed proof looked perfect. For the book cover, Dia brightened up an archival postcard of the Santa Clara foothills which evoked feelings of both Italy and Sonoma County. The final job before ordering the books was for me to again edit the entire book proof not once, but twice. I am excited about the look of this final product, but the greatest pleasure comes from knowing that my clients are completely happy with their investment.