"Tuesday Morning Memories: An Anthology"
by the Healdsburg Senior Writing Project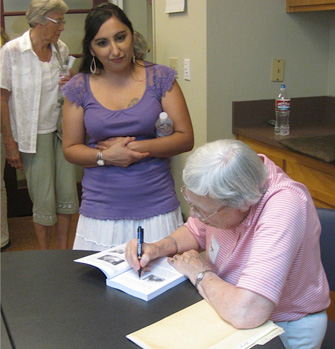 In February 2011 sixteen women and one brave man met at the Healdsburg Senior Center in Healdsburg, California with the commitment of writing their memoirs together on Tuesday mornings for a year. I facilitated this amazing group as they poured their hearts and minds into the creation of a beautiful 300-page anthology, complete with 120 stories and poems, 50 family photos and a few select illustrations done by the authors.
These seventeen writers varied in age from mid-fifties to ninety-seven years. They ranged in writing experience from complete novices to being published authors. Some were already working on their personal memoirs for publication; others had journalism experience. Several had no idea that they were such gifted storytellers, and this was only the beginning of their writing odyssey. The chapters in the anthology include: Stories of our Childhood, the Great Depression and World War II, Healdsburg Tales, Life and Family, World Travelers, Christmas Stories, Poetry, and Memoirs in Progress.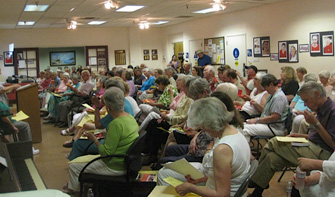 This project was different from anything I've ever done--and well worth the effort! The writers and I became as a family. They wrote stories in and out of our weekly classes and submitted them to me. I had the responsibility of selecting their best stories and, along with help from one of the writers, editing all their submissions. The pieces that I've chosen tell the stories of amazing lives well lived--mostly by members of what is now known as "The Greatest Generation," people who grew up in the United States during the Great Depression and then lived through World War II.
What was born during the making of this book was more than I had ever imagined. In my introduction to the book, I liken my experience to "mining for gold," due to the wealth of intimacy, inspiration and growth, which were generated during the course of our year together. The group held three public readings during the year, earning contributions for the book's funding and the admiration of Healdsburg's citizens as well.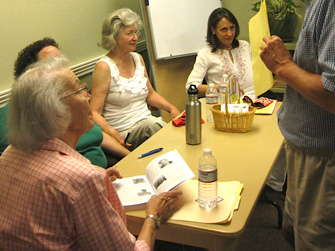 This work was not a solitary effort, but done with the gracious support of Lea Black (Senior Center Coordinator), Sonja Drown (City Recreation Manager) and the Healdsburg Senior Center Volunteers, Inc. The Healdsburg Museum generously contributed old photos from their collection. We also received funding from various donors, editing support from Healdsburg writer/editor Ann Carranza and photographic contributions from Ray Holley. Most importantly, I wish to thank Dia Misuraca of Sonoma Web Design for once more putting words and photos together in beautiful book format for me.
Using Dia's pdf file, the book was published through Createspace.com, part of the Amazon group.
Tuesday Morning Memories: An Anthology
is now
available for purchase on Amazon.com
.