excerpt from "The Reunion":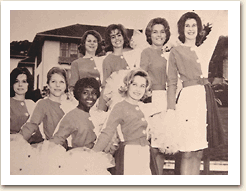 Just prior to my meeting with Carole Ann and the others, there is a sudden, yet timely explosion of e-mails. Flying like bullets into my mailbox one night, 12 or 13 at a time. "From: Classmates. Subject: Our Troops." Point, click, open. Point, click, open again. Sides are lining up; weapons are finally being drawn. War amongst us feels like a possibility.
Richard makes a comment vilifying Sadam, idealizing Bush. Whoa! We have many anti-war people online. One classmate, a Vietnam vet, speaks up in support of the troops, irregardless. Another guy, in a letter titled "full disclosure", comes out as an Army brat and a former intelligence officer. Betty reminds us that Jimmy, our former class president and favorite hunk, self-destructed on drugs post Vietnam combat. Bob quickly amends that, yes, Jimmy self-destructed on drugs, but was never in the military. Bill is afraid of our escalation. Jerry speaks out in support of our First Amendment right to free speech with each other. But the group is afraid, and people back off one by one, gradually resuming the conversation of whether to wear "comfortable casual wear", "dress up" or "Toga, toga toga" when we meet in August. For many, the charged subject of war feels too hot to handle and the conversation fades, white flags waving, quietly into cyberspace...
Two days later I'm crossing the Golden Gate Bridge on my way to Julia's house. It's almost sunset and I'm struck with a tender and vulnerable love for our bridge—my bridge—and the gleaming City behind it. This enduring friend could well have been our September 11, a structure so strong and permanent in my life, now made vulnerable. In the context of these times, reuniting with my childhood playmates seems doubly precious.
Moments like these make me laugh at Father Time. When I enter Julia's house and see the three smiling faces, it's more like a sigh, "Of course. Here we are." Perhaps a brief pause while we adjust to relative wrinkleness and current hair colors. I find myself recognizing a particular mole on Carole Ann's inner arm! I see each of their mothers so clearly and wonder if they, too, are seeing mine...